A welcoming entrance that's weathertight is the hallmark of every Promenade Sliding Patio Door
Precision-built with premium vinyl construction, ultra-efficient insulating components and high-performance glass, Promenade delivers all the "must-haves" in the ideal patio door.
The heavy-duty mainframe and sash, multi-chambered extrusions and steelreinforced interlocking meeting rails ensure superior structural integrity and durability, as well as increased insulation. Dual internal/external weatherstripping, compression bulb seal, closed-cell foam gaskets and a 1″ thick insulated glass unit with a warm-edge spacer system also contribute to optimal thermal efficiency.
Built for everyday wear and tear, the sliding panel glides smoothly and quietly on a precision-engineered tandem roller system. The handsome yet rugged aluminum screen also features four adjustable rollers for easy and reliable operation year after year.
This superbly built door will infuse your home with the warmth and beauty of natural sunlight, while protecting it from harsh weather elements.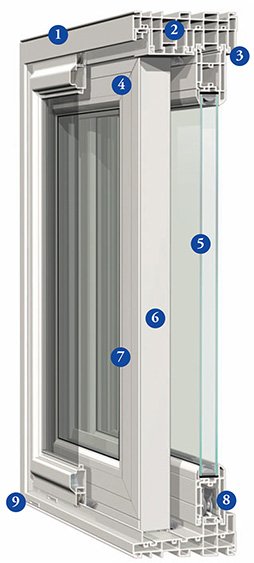 Premium vinyl mainframe and sash extrusions are colored throughout – won't chip, peel, crack or warp and never need to be painted.
Mainframe and sash feature a double-wall design and multi-chambered construction for outstanding strength and thermal protection.
Dual internal/external weatherstripping on the sash ensures optimal energy efficiency and performance.
Symmetrical 3″ rails with mitered and fusion-welded joints provide enhanced aesthetic appeal as well as added strength and durability.
1″ thick insulated glass unit with the PPG Intercept Warm-Edge Spacer System saves energy year-round by reducing the transfer of heat and cold.
Steel reinforcements at the interlocks and lock rails increase strength, rigidity and structural integrity.
Contoured glazing bead adds visual interest and beauty.
Precision-engineered tandem roller system ensures quiet and easy operation of the door panel.
Mainframe joints incorporate closed-cell foam gaskets for superior sealing.
Plus these additional features:
Deep interlocks with a protective bulb weatherstrip deliver increased insulation and a tight seal.
Mainframe includes interior and exterior accessory grooves for installation and design versatility.
Multi-point locking system with strong steel hook design seals the door tightly closed and helps prevent energy loss.
Interlock incorporates a built-in, anti-lift feature to impede door panel removal when closed or locked.
Stainless steel roller track eliminates the possibility of unsightly dark residue and wearing typical of aluminum tracks.
Heavy-duty extruded aluminum screen features four adjustable rollers for smooth gliding.
Available in a 2-panel style in 5′, 6′, 8′ and Wisconsin-style widths; 3-panel styles in 9′ and 12′ widths; and a 4-panel style in a 12′ width with center panels that open to each side.
Choose a white or beige door with left or right moving panel – left moving panel is standard (outside looking in); not field reversible.
Backed by a Lifetime Limited Warranty.